What are Siri Shortcuts?
Siri Shortcuts is Apple's solution for iPhone and iPad users to create custom shortcuts with multiple steps that they can use with their favorite apps. These shortcuts can be activated with a custom voice prompt or with automation programmed within the "Shortcuts" app.
See the Shortcuts App in the App Store >
---
What features of DroneMobile can I access with Siri Shortcuts?
DroneMobile iOS app versions 4.3 or later now support Siri Shortcuts, giving you the ability to control and track your car with your voice! The commands you can send with Siri Shortcuts include:
Remote Start
Remote Stop
Lock
Unlock
Trunk
Aux 1
Aux 2
Vehicle Status
---
Can I use Siri to Remote Start my Vehicle with DroneMobile?
YES!
---
How do I set up Siri Shortcuts with DroneMobile?
The DroneMobile Team has made it easy to set up Siri Shortcuts for your vehicle. Follow this quick guide on how to set up your custom shortcuts!
Step 1:
Open the DroneMobile App and launch the "Controls" screen by pressing the green button in the bottom nav.
Step 2:
In the top left corner, there will be a button that says "Add to Siri".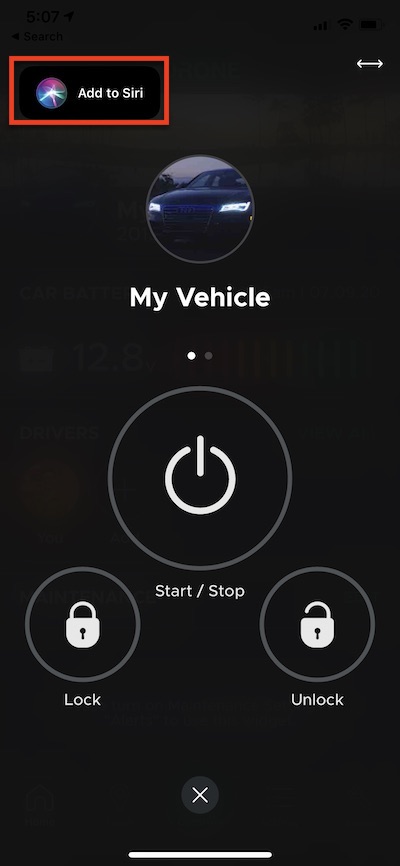 Important Note:
If you do not see the "Add to Siri" button, please make sure you have the latest version of the DroneMobile App for iPhone AND the latest release of iOS from Apple. You can also use the link above to download the latest version of Siri Shortcuts.
Step 3:
When you press "Add to Siri", a pop-up will appear with options to customize your voice command and your action.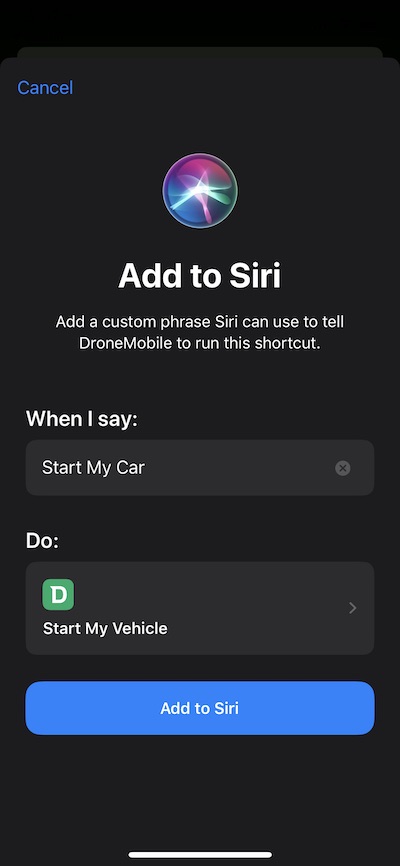 Step 4:
To edit your voice command, tap the field under "When I say". This will reveal your keyboard where you can type in your custom voice prompt for initiating this action.
Important Note:
There are certain voice prompts that will conflict with your iPhones core functions, such as "What time is it" or "What is the weather". Avoid generic phrases like this that may cause Siri confusion.
Step 5:
To edit your action, tap the field under "Do."
Step 6:
You will be shown a page that has two sets of highlighted blue text. One phrase will say "Start" by default, the other will say the name of your currently selected vehicle (e.g. "My Vehicle").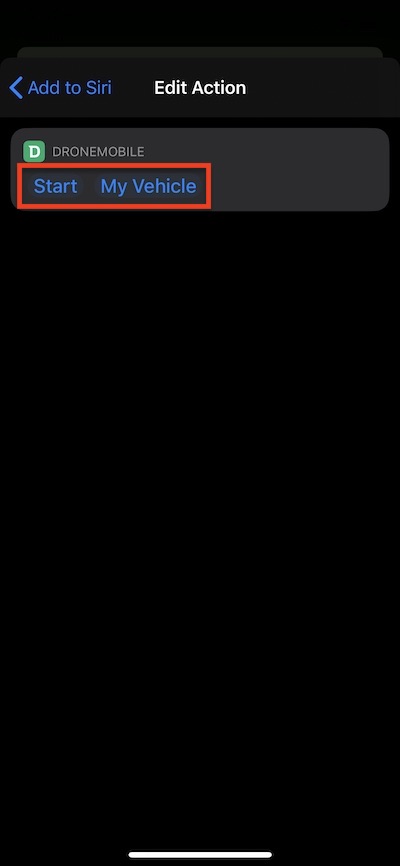 Step 7:
Tap "Start" to change which vehicle control command will be sent to your vehicle when you say your custom voice prompt. Make your selection or select "Ask Each Time" if you'd like Siri to confirm which command you'd like to send every time.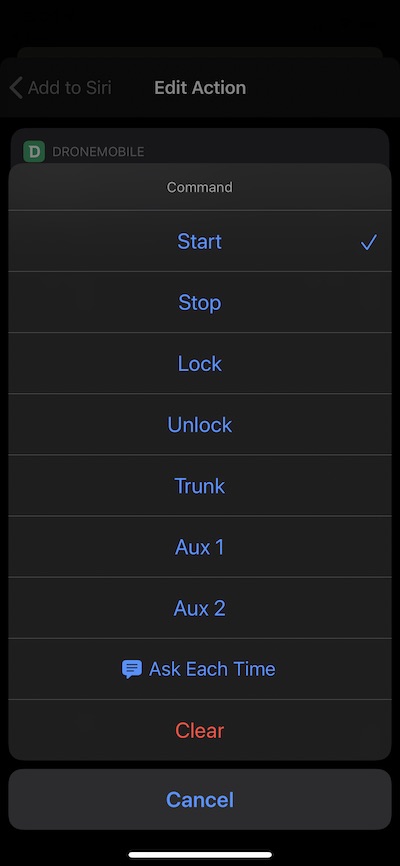 Step 8:
Next, tap your vehicle name to select which vehicle you'd like to send this specific command to. Make your selection or select "Ask Each Time" if you'd like Siri to confirm which vehicle you'd like to control every time.
Step 9:
Tap the top-left corner "Add to Siri" link to go back to the main page.
Step 10:
Confirm your selection by pressing "Add to Siri."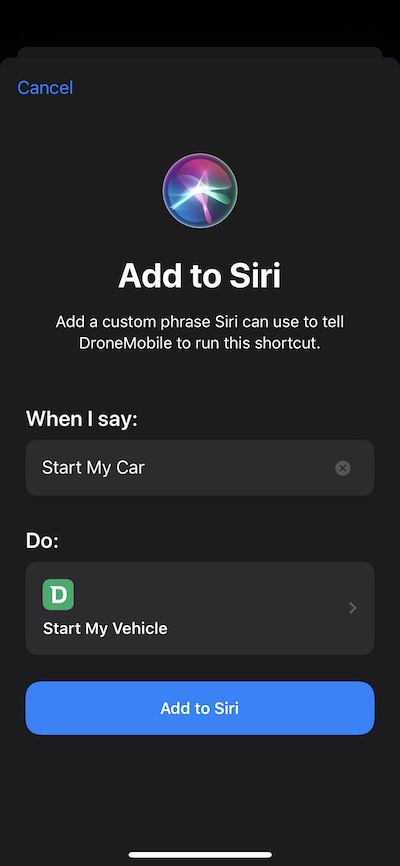 Step 11:
To test your new Siri command, activate Siri by holding down your home button or saying "Hey Siri." Then, say your new command.
Step 12:
Siri will respond by saying "Ready to do it?" You can tap or say "Yes" to confirm. This is to prevent accidental commands from being sent to your vehicle.
Important Note:
To ensure driver and vehicle safety, most commands will require user confirmation and verification via Touch or Face ID. To remove this requirement, you must disable Touch and Face ID on your iPhone Settings. We do not recommend doing this.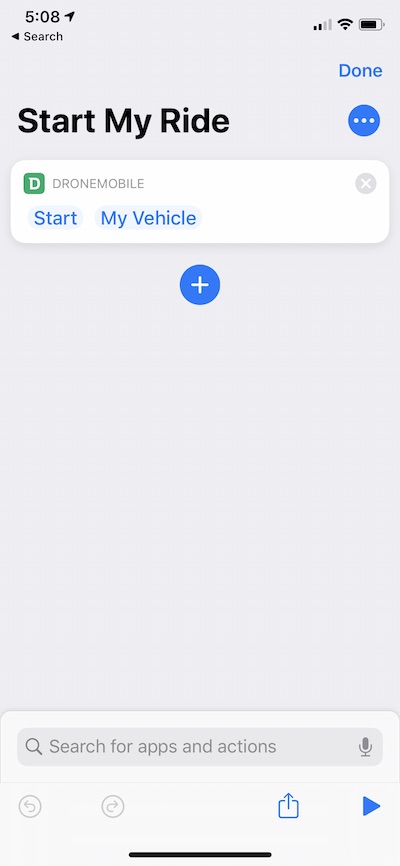 We hope you found this guide on using DroneMobile Siri Shortcuts helpful. To manage your existing Siri Shortcuts, open the "Shortcuts" app on your iPhone. If you require additional assistance with your DroneMobile system, visit our Help Center, or contact a DroneMobile Team Member today!